More accurately, I left home to run a one mile fun run, I came home after completing a 5k.
Allow me to explain.
I had signed up with five other staff members (Team Wings) to run a one mile fun run. We all decided a miler was a good starting point because none of us were particular fit. I have run distances up to 1.5 miles so I felt very comfortable with a miler.
So the day of the race (1/31/09) its about 40 degrees that morning. I worked the night before so I only racked about 4 hours of sleep but that didn't matter because I was excited about the race. I met Brad and we headed out to registration. We pin our numbers (205) very cool and meet up with the rest of Team Wings.
Here's where the confusion starts, the announcement for the start of the race is made but we are unsure if the call is for the 5k or miler. Being uncertain we followed the group thinking there were people who looked in worst shape than us. We moved to the back of the group figuring it would be better to pass than be passed and waited for the start. At the gun we started very slowly, working our way through the group. The first half mile was spent jockeying for position darting side to side trying to find pace.
After we turned away from the start I figured we must had started the 5k! I didn't tell anyone right away because I was afraid they would all mutiny and turn around. We lost Erica after about half a mile and finished the first mile in 11:03. Brad keep us entertained with his "water to the face" hydration method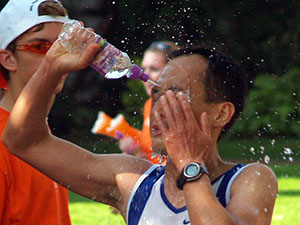 which was made only more impressive because it was 40 degrees. We dropped Steph at the mile mark. Three of us continued and after another half mile Brad needed a break and I agreed to slow up with him. Morgan continued on and had the best finish time of the team. Brad and I walked and ran the rest of the way. I am the more fit so the effort was not too hard. Don't get me wrong, I wasn't about to run the entire 5k but I do think I could have finished better. In the end we finished in 39:56. 195 finisher out of 238 starters and posting 12:51 miles.
I had not planned to run a 5k but the feeling of accomplishment was GREAT. I doubled back to cheer on the other team members and I think everyone shared my feeling of accomplishment. Back at work we shared our stories and other staff members are already wanting to sign up for the next event.
I am targeting the end of febuary for my next 5k. With continued training I should be able to shave 5 minutes off my time. Sub 35 is my goal.
Completing a 5k was one of my New Year Resolutions. Mark that one complete! On to the next challenge.
Today's Stats
Weight: 199.2 ( I have lost 9.8 pounds in the month of January by limiting my daily caloric intake to 2200 calories and monitoring intake daily)
Body Fat: 29.8% (Continues to improve)
Water %: 48 (Continues to increase as weight decreases)